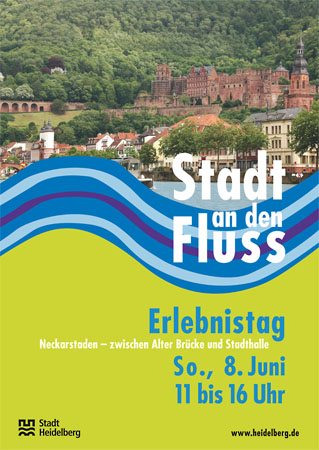 On Sunday we joined our neighbours Ralf, Fabian and Anne for a cycle trip to the "Stadt an den Fluss" Erlebnistag to celebrate the coming pedestrian area on the Neckaruferpromenade. The plan is to build a 2.6 km tunnel underneath the current riverside road, and pedestrianise the entire riverside area. There were various stalls, bands and street performers available to give a flavour for pedestrian street life will be.
The weather played silly buggers, but fortunately in a quite innocuous manner. We managed to get our bikes locked before a sudden downpour drove us under some trees for shelter. Ten minutes of torrential rain later the sun was out again, and we enjoyed the bands, bratwurst and beer which make summer living in Germany a pleasure.
As usual Rosalie was in a good mood
and Liam was thrilled to have his friends Fabian and Anne on hand for climbing around the Altstadt.
On the way home we passed by the Heidelberg Globetrotter shop, and noticed that it was open - strange for a Sunday. Since Ralf knows the owner we dropped in, and were treated to a beer by the owner Sven. Now that's what I call service!